On our screens
from September 17 to September 23, 2021:
ANNETTE | ANNETTE
(Leos Carax) DE/FR/US/JP/BI/MX/CH 2021, 140'
(in English with Polish subtitles)
A stand-up comedian and his opera singer wife have a 2 year old daughter with a surprising gift.
BACK THEN | ZUPA NIC
(Kinga Dębska) PL 2021, 94'
(in Polish with English subtitles)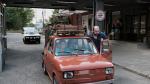 Marta is a romantic and a school victim of fate. He shares a room with his sister Kasia and grandmother, who tells her granddaughters insurgent stories instead of fairy tales. In the room behind the wall, my parents - Tadek and Elzbieta - live their married life. He is a constantly humiliated intelligent by the system who silently envies his prosperous brother-in-law. She is the president of the company's "Solidarity" with the need for freedom and a dream to finally break out of Poland. However, the real emotions for the whole family will start when the dream orange toddler stands under the block. It will turn out to be an unexpected catapult to the big world - the family will go to Lake Balaton with a toddler with luggage on the roof. Ela and Tadek will discover a vocation to trade and travel abroad, and the growing up Marta will fall in love again.
BAD LUCK BANGING OR LOONY PORN | BABARDEALA CU BUCLUC SAU PORNO BALAMUC
(Radu Jude) RO/LU/CZ/HR/CH/GB 2021, 106'
(in Romanian, English, Czech, French and Russian with Polish and English subtitles)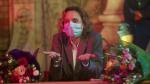 Emi, a school teacher, finds her career and reputation under threat after a personal sex tape is leaked on the Internet. Forced to meet the parents demanding her dismissal, Emi refuses to surrender to their pressure. Movie only for adult viewers.
IN-LAWS | TEŚCIOWIE
(Kuba Michalczuk) PL 2021, 82'
(in Polish with English subtitles)
Is the wedding party a sure-fire disaster if the wedding is cancelled? Certainly. And what a disaster it is! Everything sets the two families apart – their background, status, wealth and taste. Initially, the parents of the groom and the bride are simply shocked. What happened? Who is responsible for this? What about the wedding party? Should we welcome the guests? Let the music play? Pour drinks? Who will cut the cake? From one word to the next, pleasant smiles turn into a nasty public quarrel. That's when the real shocker comes… In the meantime, the wedding party grows really wild. And no one seems to be missing the bride and groom.
JUMP, DARLING | JUMP, DARLING
(Phil Connell) CA 2020, 90'
(in English with Polish subtitles)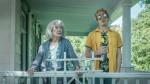 A rookie drag queen, reeling from a break-up, escapes to the country, where he finds his grandmother in steep decline yet desperate to avoid the local nursing home.
LOVE TASTING | OSTATNI KOMERS
(Evi Romen) AU/BE 2020, 107'
(in Polish with English subtitles)
The last day of school at a junior high school in a small Polish town. Waiting for the graduation party, so-called "komers", a group of students spend time at a public pool. In the following days, they taste love, rejection and first disappointments. The record of what they've been through is a cherry on top of their junior-high-school days. It's also a portrait of modern youth in search of identity, the sense of belonging and bonds.
MY FIRST SUMMER | MY FIRST SUMMER
(Katie Found) AU 2020, 80'
(in English with Polish subtitles)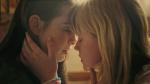 16-year-old Claudia has grown up in isolation from the outside world. Stranded on a remote property after her mother's death, she is shocked when Grace, a spirited local teen, appears in the garden like a mirage, a breath of fresh, sugary air. The pair find in each other the support, love and intimacy they need, and teach each other the restorative power of human connection. But their idyllic peace is a fragile one as the adult world closes in and threatens their secret summer love. Headlining some of Australia's brightest young talent, Markella Kavenaugh (Romper Stomper) and Adelaide's own Maiah Stewardson (Windmill, STC, Patch), My First Summer takes girls seriously and sensitively.
NOMADLAND | NOMADLAND
(Chloé Zhao) US/DE 2020, 107'
(in English with Polish subtitles)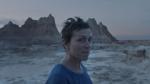 copyright © 2020 20th Century Studios
Following the economic collapse of a company town in rural Nevada, Fern (Frances McDormand) packs her van and sets off on the road exploring a life outside of conventional society as a modern-day nomad. The third feature film from director Chloé Zhao, Nomadland features real nomads Linda May, Swankie and Bob Wells as Fern's mentors and comrades in her exploration through the vast landscape of the American West.
POLAŃSKI, HOROWITZ. HOMETOWN | POLAŃSKI, HOROWITZ. HOMETOWN
(Mateusz Kudła, Anna Kokoszka-Romer) PL/FR/US 2021, 75'
(in Polish with English subtitles)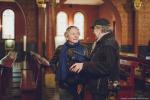 Roman Polanski and Ryszard Horowitz came to Poland to share with us the most personal memories from their childhood and youth.
SAINT-NARCISSE | SAINT-NARCISSE
(Bruce LaBruce) CA 2020, 101'
(in English and French with Polish and English subtitles)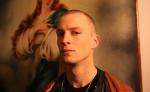 When a young man who thought his mother was dead discovers that she may still be alive, he goes on a quest to find her. His journey takes him to a remote cabin in the woods where his mother lives in exile with a mysterious young woman.
SWAN SONG | SWAN SONG
(Todd Stephens) US 2021, 105'
(in English with Polish subtitles)
Legendary actor Udo Kier stars as retired hairdresser Pat Pitsenbarger, who escapes the confines of his small-town Sandusky, Ohio nursing home after learning of his former client's dying wish for him to style her final hairdo. Pat starts a journey that will bring back many ghosts of the past…
THE CHAMPION | MISTRZ
(Maciej Barczewski) PL 2020, 91'
(in Polish and German with Polish and English subtitles)
The Champion is a historical drama depicting the story of Tadeusz "Teddy" Pietrzykowski, a pre-war boxing champion of Warsaw, who in 1940 arrives with the first transport of prisoners to the newly created concentration camp Auschwitz. When he is forced into boxing fights with camp functionaries, among the prisoners there is reassurance and hope that their captors are not invincible..
THE FATHER | THE FATHER
(Florian Zeller) GB 2020, 97'
(in English with Polish subtitles)
A man refuses all assistance from his daughter as he ages. As he tries to make sense of his changing circumstances, he begins to doubt his loved ones, his own mind and even the fabric of his reality.
THE GATEWAY KING | NAJMRO. KOCHA, KRADNIE, SZANUJE
(Mateusz Rakowicz) PL 2021, 96'
(in Polish with English subtitles)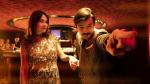 An action comedy about the king of thieves and getaways. Inspired by true events from the life of Zdzisław Najmrodzki who ridiculed the authorities by slipping away from law enforcement twenty-nine times. Women loved him, while men admired him. In the 1970s and 80s all of Poland followed Najmrodzki's daring stunts.
THE GREEN KNIGHT | THE GREEN KNIGHT
(David Lowery) IE/CA/US/GB 2021, 130'
(in English with Polish subtitles)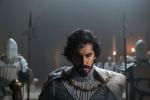 An epic fantasy adventure based on the timeless Arthurian legend, The Green Knight tells the story of Sir Gawain (Dev Patel), King Arthur's reckless and headstrong nephew, who embarks on a daring quest to confront the eponymous Green Knight, a gigantic emerald-skinned stranger and tester of men. Gawain contends with ghosts, giants, thieves, and schemers in what becomes a deeper journey to define his character and prove his worth in the eyes of his family and kingdom by facing the ultimate challenger. From visionary filmmaker David Lowery comes a fresh and bold spin on a classic tale from the knights of the round table.
THE WORLD TO COME | THE WORLD TO COME
(Mona Fastvold) US 2020, 105'
(in English with Polish subtitles)
Somewhere along the mid-19th century American East Coast frontier, two neighboring couples battle hardship and isolation, witnessed by a splendid yet testing landscape, challenging them both physically and psychologically.
TITANE | TITANE
(Julia Ducournau) FR/BE 2021, 108'
(in French with Polish and English subtitles)
Following a series of unexplained crimes, a father is reunited with the son who has been missing for 10 years. Titane : A metal highly resistant to heat and corrosion, with high tensile strength alloys.
VALENTINA | VALENTINA
(Cássio Pereira dos Santos) BR 2020, 95'
(in Portuguese with Polish and English subtitles)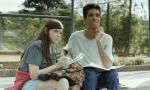 A trans girl and her mother move to a new town in order to start fresh, but quickly face dilemmas when the local high school needs a second parental signature for enrollment.
WHY NOT YOU | HOCHWALD
(Evi Romen) AU/BE 2020, 107'
(in German and Italian with Polish and English subtitles)
Mario, a young dancer living in his small village has to face the loss of his beloved friend Lenz, victim of an attack in a gay club.


You can also watch films on our online platform: www.e-kinopodbaranami.pl.
ABOUT KINO POD BARANAMI - read HERE