On our screens
from June 2 to June 8, 2023:
A PIECE OF SKY | DRII WINTER
(Michael Koch) CH/DE 2022, 136'
(in German with Polish and English subtitles)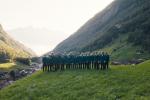 The most original film of this year's Berlinale (Special Jury Award). The postcard scenery of the Alpine province serves as a contrast to the hardships of life for characters thrown upon the whims of nature and shenanigans of perverse fate. All these inconveniences most powerfully befall Anna, a local waitress, who gets involved with Mark, a slightly older man. Mark, as an outsider, not very handsome, and easily excitable, is distrusted by the local community. However, the more facts testify to his disadvantage, the more eagerly Anna advocates for him, knowing that she is also fighting for the right to life her way. But A Piece of Sky is more than a combination of a tribute to a woman's strength and a touching love story. The real talent of director Michael Koch is that he can smoothly balance between a serious tone and a refreshing mockery. In this way, the Swiss film sometimes turns into a chronicle of provincial absurdities, in which there is a place for kitschy folklore, 90s pop, and even Bollywood aesthetics.
BEAU IS AFRAID | BEAU IS AFRAID
(Ari Aster) US 2023, 179'
(in English with Polish subtitles)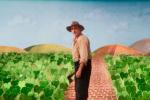 Following the sudden death of his mother, a mild-mannered but anxiety-ridden man confronts his darkest fears as he embarks on an epic, Kafkaesque odyssey back home.
BOOK CLUB: THE NEXT CHAPTER | BOOK CLUB: THE NEXT CHAPTER
(Bill Holderman) US 2023, 110'
(in English with Polish subtitles)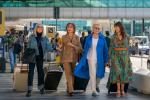 Follows the new journey of four best friends as they take their book club to Italy for the fun girls trip they never had.

You can also watch films on our online platform: www.e-kinopodbaranami.pl.
ABOUT KINO POD BARANAMI - read HERE